This feed contains pages in the "planet-debian" category.
I just donated $500 to OpenHatch. Here's why you should donate too:
Diversity in open source matters. We can't keep making the software the world runs on without involving people of all sorts, from all backgrounds.
OpenHatch is run by community members who I've known for years and trust. They care about data-driven effectiveness and are always getting better at what they do.
A rising tide floats all boats. More contributors == more awesome.
If you donate before December 24th, your donation makes twice the difference.
Diversity and education initiatives are the reason I'm a part of the free and open source software community today. (Thanks, Debian Women.)
You don't have to donate $500 to make a difference. $5, $10, $25— from a hundred people—all adds up.
Installing fresh hot Debian 7.0 on a shiny new ThinkPad X1 Carbon laptop turns out to be easy as cake. You just need to make sure to grab the wifi firmware from unstable instead of the all-in-one firmware tarballs, which contain a version that is missing a couple required files.
wget http://cdimage.debian.org/debian-cd/7.0.0/multi-arch/iso-cd/debian-7.0.0-amd64-i386-netinst.iso
dd if=debian-7.0.0-amd64-i386-netinst.iso of=/dev/sdb

(Make sure /dev/sdb is really the usb stick you want to overwrite with the installer!)
wget http://ftp.us.debian.org/debian/pool/non-free/f/firmware-nonfree/firmware-iwlwifi_0.38_all.deb

And put that on a second usb stick for the installer to load the firmware off of.
As far as I can tell, everything works. (Did not mess around with the fingerprint reader, don't care.)
I found the following quote from Stefano's DPL platform interesting:
When faced with the dilemma, I've favored ditching some DPL tasks and communicating or taking notes about the others, instead of the other way around.
It takes someone who really knows Debian to realize that sometimes communicating about what's being done is more important than doing more.
DebConf launched with a bang—the day I arrived by bike I was up until 3am meeting and greeting in the basement lounge of the Carmen Columbia dormitory, where I was staying. No idea how I managed to be so awake for that.
The rest of the week alternated between hacking like crazy on code for my talk and spending a lot of time socializing with Debian folks new and old.
For the day trip to Coney Island, I joined the dkg-led bike expedition which ended up running to nearly 30 miles, which was a bit more than expected. The fact that this was all in actual dense city really drove home the scale difference between Boston and New York (I'd never been to NYC before this). We took several breaks to lounge around and eat and drink, so it took quite a long time even given the distance. I hadn't planned on seeing the baseball game that was a part of the trip, but I ended up going anyway and it turns out that a bunch of geeks at a minor league game is actually quite a lot of fun! I hope someone else will put some pictures from the bike ride and game online soon, since I didn't really take any myself.
This was the first DebConf where I gave a talk, which resulted in me skipping almost all of the other talks, because my talk was on the last day and I reaaally wasn't ready at the start of the conference due to the rest of life being pretty crazy this summer. I missed some things I would have liked to see because of this, but ultimately I think it was worth it. The good news is: it went well! I was nervous until I actually started talking (never given a talk at a conference before), and then it was fine. If you missed it, the talk video is on the web in low and high quality; slides are here.
The audience was great—there were excellent questions and people were excited and interested in the project. I couldn't have asked for a better reception. After the talk finished I spent some time aisle-chatting with some folks, and totally failed to recognize Joey despite having met him before, because he'd shaved off his hair.
DebConf was, like usual, both inspiring and exhausting. I haven't managed to follow up on much that happened during the conference yet. I definitely plan to do so, though, now that real life is calming down again. I'd hate to waste the post-conference buzz about SD. My todo list includes:
Working more on the SD debbugs bridge to make it more stable.

I ran into Jesse soon after coming back and now have a better idea of how I'm going to handle a lack of history properly.

Getting my patch to the Debbugs SOAP interface merged.
Looking into the read-write SOAP interface work that was done as a Summer of Code project.
After talking with Jesse I also kind of want to hack up a RESTful interface that could be used alongside the SOAP interface. It seems like doing so will make development of and using the Debbugs web API less painful in the future. This may be a rabbit hole that I don't actually want to jump down, but it's an idea.
Maybe other help on Debbugs proper!
Fixing SD bugs and generating more documentation.
Thinking about and thanking people for talk feedback!
Playing around with monkeysphere for authentication on my personal machines.
Watching videos of talks I missed (this includes basically everything that didn't have to do with bugtracking).
DebConf being in New York City this year, clearly the right way to get there was to bike, together with Molly and Daf. Being touring newbs, there were a few mishaps.
Day 1
We aimed to catch the 10:00 commuter rail train from Boston to Providence, Rhode Island, but we ran late (predictable) and had problems with the bicycle rack for my racing bike, which attaches without frame mounts (also predictable, since Mako and Mika test-rode it earlier in the week), so we didn't make it in to the station until around 10:20. We used the extra time to eat and fix up the bikes, though, so it's not clear how much of a setback that was.
Here are our bikes ready to go at the Providence commuter rail station.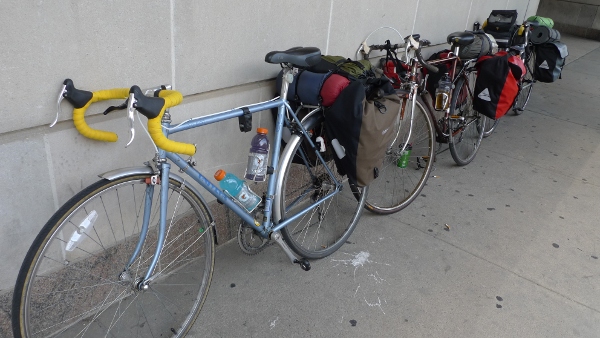 We then had some problems with Molly's brakes, and it took a long time to navigate out of the city, but eventually we found ourself on the "Washington Secondary Trail"—a wonderful bike path along an old rail line. Every couple miles there'd be an old covered rail bridge over the river, and it was a well-paved straight shot for about ten miles, with no cars and no need to navigate.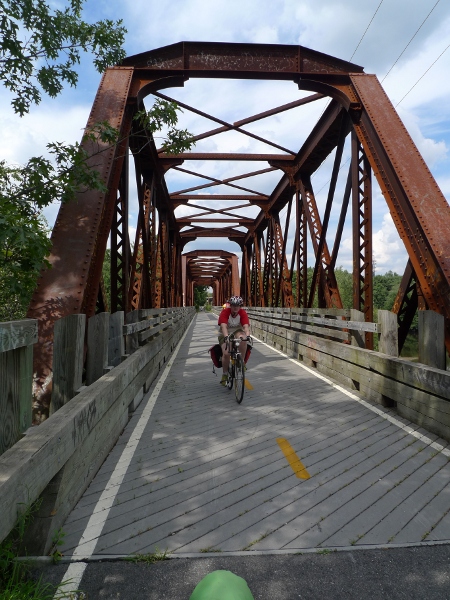 Just as we were getting into things after the bike trail ended, something completely unexpected happened.
This is Daf's derailleur after it sheared off in the middle as we attempted to start after a red light outside Tractor Supply Co.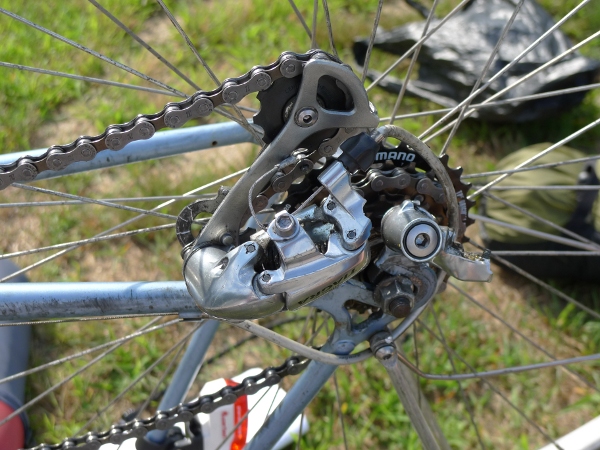 Luckily, John and his son Chris lent us a hand and hauled Daf and his bike to the nearest bicycle shop in the back of their pickup truck. They'd just come from there, where John had bought Chris a new helmet.
Greenway Cycles, the only bike shop in a twenty mile radius, was three miles away. We got there an hour before it closed and Rick replaced the derailleur and straightened the hanger in a jiffy.
Due to all these things, we didn't get as far as we'd planned in the first day and ended up camping in Seaport Campground in Mystic, Connecticut, rolling in at around 22:00. We did about 65 miles, including six due to the detour to the cycle shop. Carrying camping gear is heavy! Several delicious peanut butter and jelly bagels and some wheatberry and couscous salad later, we were passed out.
Day 2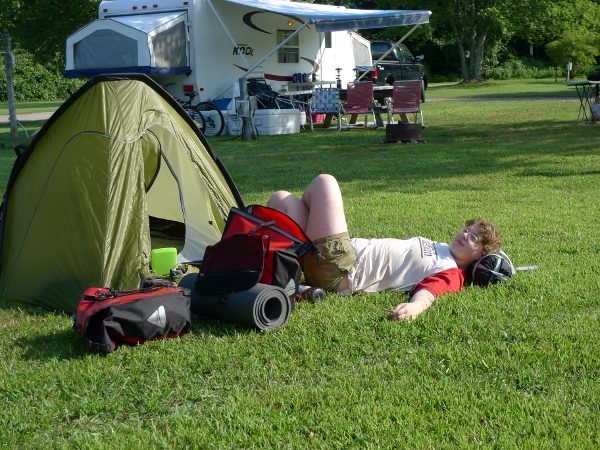 The second day included less bike trouble, but was no less eventful, and we were tired from the previous day's riding. The highlights included taking a tiny sidewalk path that I'm baffled how Google knows about up onto a sidewalk alongside the I-95 bridge across the Thames to New London, Connecticut.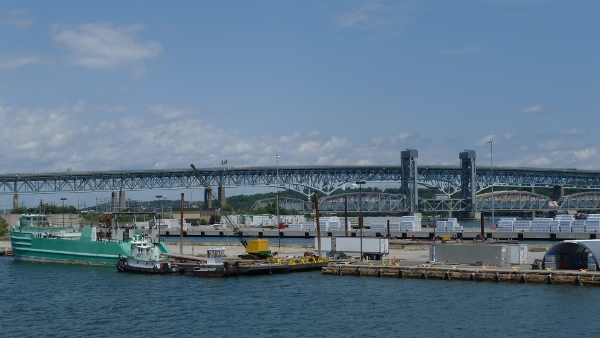 The 13:00 ferry from New London to Orient Point, New York, where we got some remarkably good veggie burgers (whole edamame visible!) for lunch.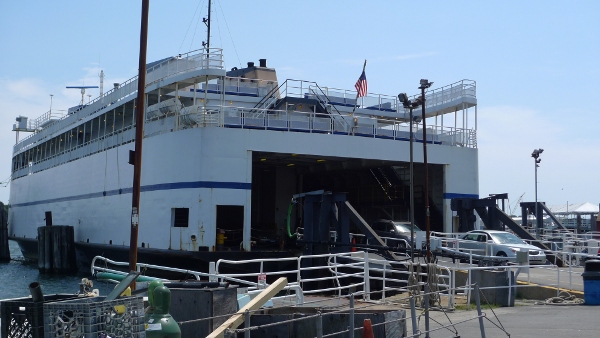 And a vineyard on the north fork of Long Island, where we stopped for a quick tasting and ended up picking up a bottle of barrel-fermented chardonnay. The vineyard was small—23 acres, with 11 acres of grapes—and the proprietors were friendly and extremely interested in our trip. They gave us a dollar off on the bottle due to our method of transport.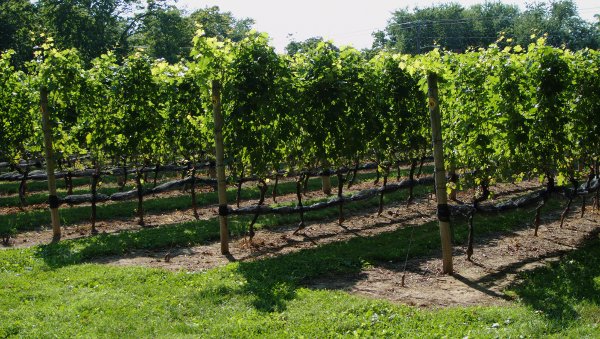 It turns out there are only two trains a day on the Long Island rail, and we just barely caught the 18:52 return from Riverhead. We had mere seconds in the station and ended up without enough cash to pay for tickets onboard, but the conductor just took what we had and gave us tickets to Penn Station anyway.
Outside Penn, a girl with a mohawk and a messenger bag overheard us talking about biking up Broadway and told us to bike up 8th Avenue instead. "Always bike up 8th and down Broadway because they have bike lanes in those directions." Thus, we didn't die dodging taxis in the dark.
So basically, due to various people being extremely nice to us for no good reason, we made it to Columbia University around 22:30, on the correct day. Warm fuzzies for humanity all around.

From the department of things-that-I-know-are-possible-but-can-never-remember-how-to-do-so-hey-I-read-the-manpage-and-now-I'm-blogging-it, I bring you "downloading a directory of photos from a website":
 wget --recursive http://example.com/photos/some-event/ --no-directories --directory-prefix <local-folder-name> --accept JPG,RW2

I always remember wget --recursive (or wget -r for short), but that produces an annoying tree of directories starting with the website's domain and working its way up to the directory you actually want. In the command above, --no-directories removes the tree, and --directory-prefix tells wget to put the downloaded files somewhere that's not the current working directory. The --accept option tells wget to discard files with extensions other than those mentioned, so your downloaded directory is not cluttered with webserver-generated files like index.html if you don't want it to be.
Here's the short version, since the long version is nice to remember but not so nice to type:
wget -r http://example.com/photos/some-event/ -nd -P <local-folder-name> -A JPG,RW2

I hate keeping track of money. Bank accounts, credit cards, investing—it's such a hassle. Hell, sometimes I even hate the fact that money exists and needs to be dealt with in the first place. But I admit that it's an easier system than bartering for everything.
In college I pretty much ignored most things financial. I rarely had more money than I needed, and put little financial planning into deciding what I could and could not spend money on besides, "I'm going to make X dollars this summer," and, "think twice." But now that I have a steady paycheck, it seems like a good idea to know where all my money goes, so I can make better decisions about how I'm spending (and saving) it.
But I've kept procrastinating starting to do so, because GUI programs like Gnucash and HomeBank seem like such a hassle. Their first screen is dauntingly complex, and if you don't know much about accounting it's scary and difficult to be asked to set up a big set of accounts when first starting to use the program, without having any prior experience with what you personally would find useful to keep track of. Entering data through menus and dialogs is tedious and slow.
hledger (or ledger, which came first) had been appearing on my radar recently, not least because Iron Blogger uses it). hledger changed my opinion of accounting software. In about 15 minutes, using only the sample transactions from the manual, I was able to enter all my assets and liabilities—bank accounts, credit card, student loans, money I've borrowed from people and never paid back though I said I would, etc. And then, I could run 'hledger balance' and it would tell me what sorts of things I had spent money on in the past few days, as far back as I could bother looking up actual transactions for, rather than entering a single transaction with a balance forward. Duuude, awesome!
I'm a geek. I like statistics and data about my life, as long as it's not a huge pain to collect the data in the first place. More data means more on which to base decisions, decisions which will then be freer from the bias of what I find memorable enough to remember having done.
Here's what I like best about ledger:
Command-line interface for the hacker in me.
Pre-existing facility with a text editor transfers over to facility of data entry.
No need to set up accounts separately from transactions. Transactions are the important thing, and accounts just automagically appear when the account name appears in a transaction. Mistakes are trivial to correct in a text editor.
Easy to start out with "use text editor to add transactions" and "hledger balance" and then branch out to more advanced features as necessary.
Text file format is well-suited to storing in a version control system.
It easily replaces two text files that I used to keep: "money owed to others" and "checks written but not yet cashed by the other party."
I don't think I'd be enjoying keeping track of my money nearly so much without a tool like hledger. It gets out of your way to let you focus on the hard things, like choosing categories for the things you spend money on and remembering to record the data in the first place.
Inspired by various Planet Debian postings, I've spent some time recently looking into a few RC bugs to help with the Squeeze release.
mpg123-el #581227 A previous commenter on this bug suggested a proposed fix, which I tested and uploaded. I think the bug's severity was inflated to begin with, so I downgraded the bug as well.
doclifter #580246 This one had to do with the python2.6 transition. I pointed out a patch against Ubuntu's version of the package that fixes this problem, and someone else made an NMU based on that. (Seemed like a good idea to look in the PTS for Ubuntu patches since Ubuntu always transitions to newer Python before Debian proper.)
gnuvd #580110 I checked upstream and a new version that's supposed to fix this bug was released today, so I updated the bug report to make note of this and give the maintainer a chance to look at it.
libtommath #583820 This FTBFS bug was caused by a previous NMU that fixed a different FTBFS and also made some unrelated changes. I sent a message to the previous NMUer noting this fact and made a new upload fixing the new FTBFS.
fceu #580820 Needs new upstream packaged to fix. The maintainer seems pseudo-MIA but has shown some signs of returning to activity; I sent an email inquiring as to whether he intends to fix the critical issue in this package.
op-panel #582377 and #571427 These were not merged when I started out, so I merged them after noticing they were the same. I spent some poking at the bug itself and made a simple patch, only to find out that there was a pending patch in pkg-voip's subversion repo. I hopped onto #debian-voip to prod the person who'd prepared the patch in subversion about the importance of updating the BTS when working on bugs. These bugs are currently blocking on testing the patch.
Most all of these bugs I've subscribed to in case of follow-up. (Geez, challenge-response subscription via email is kind of a pain.)
The world around me seems to whirl these days. One week ago, I graduated from MIT. People I've known during the last four years have been dispelling to various parts of the globe one by one, day by day. California, Canada, Indonesia, Seattle. Some will be back again. Some will not, or if so only to visit. pika is a continuous bustle of activity as the summer has commenced and it has filled with creative and adventurous MIT students who've suddenly found themselves having free time. A hammock being built on the roofdeck. Thrice-weekly icecream forays. Common areas overflowing with people playing musical instruments, chatting, and messing around on laptops. Summer's warmth has arrived, bringing with it farmer's markets, strawberry picking, and swimming expeditions.
While it's wonderful to get to meet so many new people living in a college environment, I can't help but feel sadness thinking about everyone who's left. There are always more friends to be made as new people arrive, but old ones moving away leave bittersweet memories, and the new relationships are always a bit different as the age discrepancy between me and others changes. Or the me-the-ephemeral-collection-of-thoughts-which-when-regarding-other-people-sometimes-involve-the-mentor/mentee-distinctions-caused-by-one-party-being-older-or-more-knowledgeable-than-the-other-at-least-in-certain-areas changes. The end of a semester always feels like this, but this year even more so as the people I started university with start down new paths.
For me, that was going to involve staying on at MIT to complete a one-year master's program, the "M.Eng." in electrical engineering and computer science. That plan, too, has changed. I've deferred the degree and accepted a full-time engineering position at Ksplice, an exciting early-stage Linux startup here in Cambridge. I'd been working at Ksplice part-time since January before joining full-time immediately following graduation. Ksplice is the realization of ideas I saw being born on the whiteboard at SIPB when I was a freshman, and it's fun to see that play out in a small, ever-changing, low-bullshit company.
All in all, there are many more exciting things down the road, and, working at an MIT startup, I haven't even escaped the MIT/Cambridge reality-distortion bubble yet. Still, it's tempting to resist change and let myself romanticize the good old days, hoping to catch every person I've ever enjoyed spending time with and hold them down here forever. That's not the way life works, though. Change happens.
For work recently I've been doing some Django-related tasks that involve talking to an external API with POSTed forms. Django forms objects are declared by creating a class that inherits from django.forms.Form, with the fields of the form declared by declaring attributes of that class. Which works well and is clean and easy to remember—unless the API you're working with requires a field with the same name as a Python keyword, such as return. You can't declare a field like this as an attribute; it will trigger a syntax error.
I spent some time scratching my head over this, and came up with this as a workaround after source-diving to find out how Form objects actually work:
from

 django 

import

 forms



class

 

ExampleForm

(

forms

.

Form

):


    

def

 

__init__

(

self

,

 data

=

None

,

 files

=

None

,

 auto_id

=

'id_%s'

,

 prefix

=

None

,


            initial

=

None

,

 errorclass

=

ErrorList

,

 label_suffix

=

':'

,

 empty_permitted

=

False

,

 return_url

=

None

):


        forms

.

Form

.

__init__

(

self

,

 data

,

 files

,

 auto_id

,

 prefix

,

 initial

,


            errorclass

,

 label_suffix

,

 empty_permitted

)


        

if

 return_url 

is not None

:


            self

.

fields

[

'return'

] =

 forms

.

CharField

(

widget

=

forms

.

HiddenInput

,

 initial

=

return_url

)



It turns out that the attribute declaration is just syntactic sugar for creating a dictionary of key/value pairs, which is then stored in the fields attribute. So we can monkeypatch in extra values after the translation. Which is somewhat more awkward and ugly, but works in a pinch.
Note that I haven't extensively tested what interactions this may cause with other forms code, so use with some caution.