dents: last checked Sat 23 Mar 2013 07:45:01 AM EDT (585 posts)
often surprised by how little time long-procrastinated emails take to respond to.
—
The infrastructure behind products, services, and companies is intensely fascinating to me. Do you get that? #
curioushackeriscurious
—
ok, radia perlman's LCA keynote on protocol design is hilarious and very well-done. what a hacker!
http://ur1.ca/cwnwe
—
Christine Spang blogs here about free software hacking and her adventures and endeavors.
Have a look at the most recent posts below, or browse the tag cloud on the right. An archive of all posts is also available.
Non-blog things of Christine's can be found on her homepage.
I just donated $500 to OpenHatch. Here's why you should donate too:
Diversity in open source matters. We can't keep making the software the world runs on without involving people of all sorts, from all backgrounds.
OpenHatch is run by community members who I've known for years and trust. They care about data-driven effectiveness and are always getting better at what they do.
A rising tide floats all boats. More contributors == more awesome.
If you donate before December 24th, your donation makes twice the difference.
Diversity and education initiatives are the reason I'm a part of the free and open source software community today. (Thanks, Debian Women.)
You don't have to donate $500 to make a difference. $5, $10, $25— from a hundred people—all adds up.
Installing fresh hot Debian 7.0 on a shiny new ThinkPad X1 Carbon laptop turns out to be easy as cake. You just need to make sure to grab the wifi firmware from unstable instead of the all-in-one firmware tarballs, which contain a version that is missing a couple required files.
wget http://cdimage.debian.org/debian-cd/7.0.0/multi-arch/iso-cd/debian-7.0.0-amd64-i386-netinst.iso
dd if=debian-7.0.0-amd64-i386-netinst.iso of=/dev/sdb

(Make sure /dev/sdb is really the usb stick you want to overwrite with the installer!)
wget http://ftp.us.debian.org/debian/pool/non-free/f/firmware-nonfree/firmware-iwlwifi_0.38_all.deb

And put that on a second usb stick for the installer to load the firmware off of.
As far as I can tell, everything works. (Did not mess around with the fingerprint reader, don't care.)
In a little town called New Paltz, not far from a beautiful series of cliffs called the Shawangunks, exists a wonderful little vegan cafe called the Karma Road Cafe.
After a climbing trip one weekend, I reinvigorated my exhausted body with a wonderful thing there that they called the Kalecado salad. I recently attempted to reproduce it at home using fresh Red Fire Farm green curly kale from my weekly CSA share.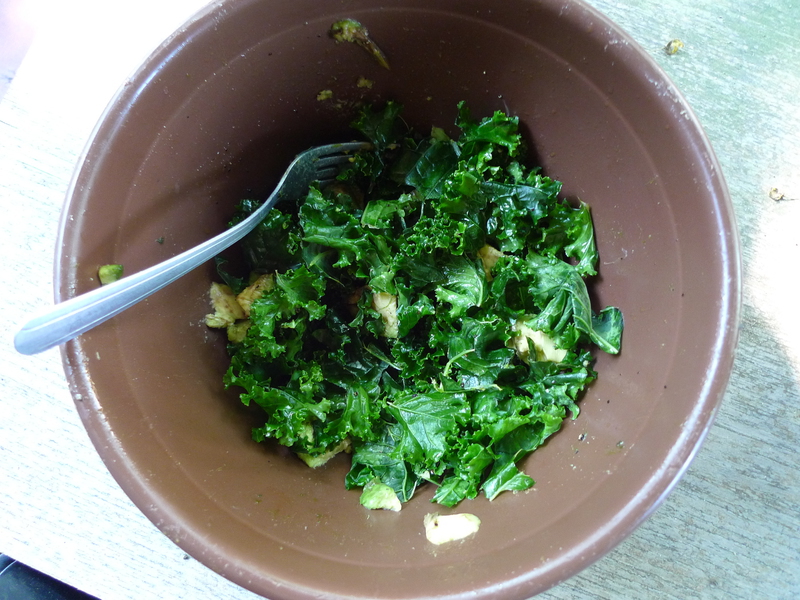 Here's what's in it:
1 bunch fresh green curly kale
1 ripe avocado
And for the dressing:
equal parts olive oil and lemon juice (I used approx 3 tbsp each)
salt and fresh-ground black pepper to taste
Chop or tear the kale into small pieces. Mix the dressing together and then mix it with the kale, using your hands to rub it in. Top with diced avocado.
I'm sure avocado was in a more pureed form in the original salad, and I don't recall the black pepper, but it came out delicious even if the details aren't quite right.
Fresh kale really is better raw.
I made this smoothie this morning in a frantic attempt to use up some of my now-wilting CSA greens. The minute I tasted it I was blown away by how well it turned out!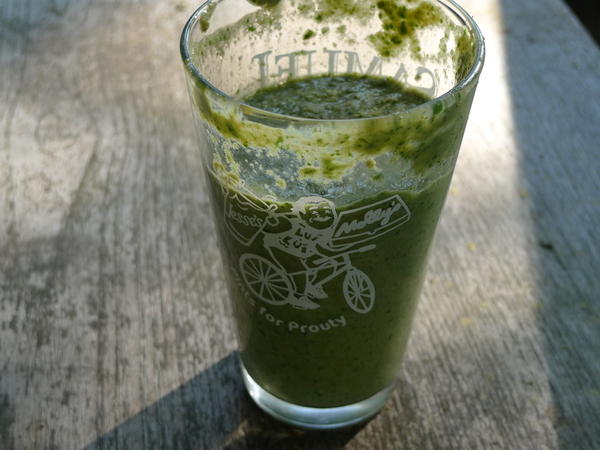 Here's the recipe:
1 red apple
1 banana
1 bunch cilantro
3 leaves kale
enough unsweetened soymilk to blend
Yes, I put in an entire bunch of cilantro. Result? A refreshing kick.
It's possible I could have stuffed in some more kale, or some spinach, or some salad greens, but after tasting it after the first blend, I was so happy I couldn't bring myself to experiment on it.
I bribed myself to stop doing this: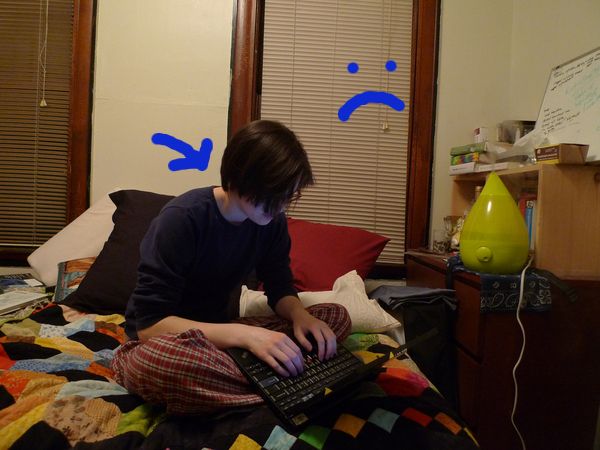 With this: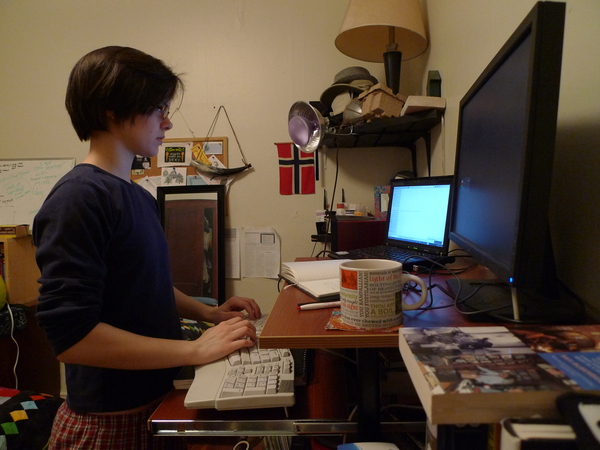 I don't have a lot of space for a proper chair/desk setup at home, but this little desk is something I could squeeze in with some rearranging.
It gets me out of bed to check my email in the morning, and is a good deterrent to doing terrible things to my back on those days when I want to hack on a personal project for a weekend day and don't want to go out to a cafe or library.
My feet still hurt when standing for long periods though I got an anti-fatigue mat, but I hear that gets better with time.
I still have a sitting desk at work which I'm pretty happy with. This way I stand sometimes and sit sometimes too.
As a vegan and a female, I often wonder whether I'm getting proper nutrition—especially when it comes to things like iron, vitamin D, calcium, and B12, since these important nutrients are found in high concentrations in animal products. While I can make guesses as to what I'm not getting enough of based on how I feel, I've never really felt certain whether I really need this supplement, or whether I ought to be eating more lentils or what. Because the real way to figure that out is to get a blood test, and I'm not a doctor and getting blood tests for personal reasons in the US sounds expensive and like a lot of work.
Life Size Lego Syringe by seanmragan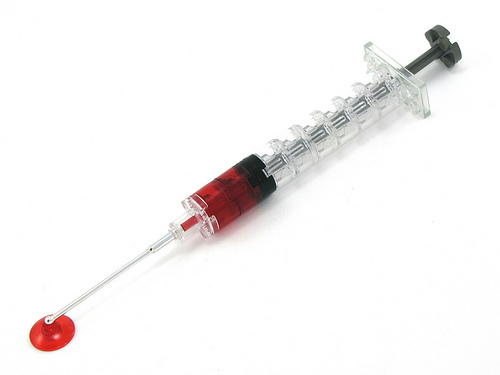 That's why InsideTracker caught my attention. It's a service where you sign up for a blood draw, and they perform a lab analysis on your blood for what they call "biomarkers"; basically a measure of the level of certain nutrients in your blood. Then their websites gives you nutrition suggestions to improve your results. As a person with a science background, and someone who wants to be in charge of my health and maximize my well-being and energy, it sounded perfect.
I gave it a shot. Here are my initial impressions.
pros
Simple product choice. They only have two products, and are very honest about the fact that this is because the B12 and D analyses are a significant additional expense. I appreciated this explanation, and still opted for the "Fitness Plus" product because I'm particularly interested in those two markers.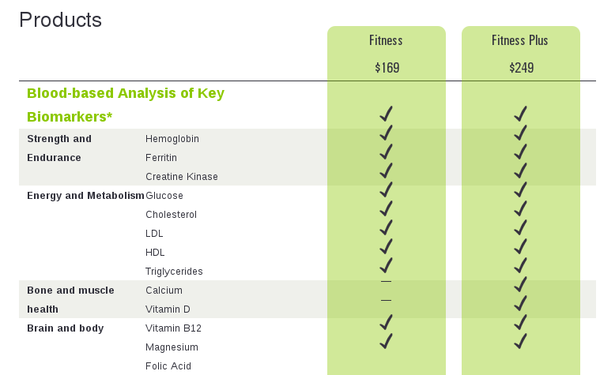 24-hour turnaround from blood draw to data on the website. Wow, I'm impressed.
God I love data. It's enough to get me excited about needles.
cons
Their website still has a few rough edges. I got distracted in the middle of the signup process on the first go, and ended up in a multi-day email back and forth with someone on the team there who kept forwarding my problems getting my password reset to the engineering team. And I never got any notification that my problem was finally solved. A suggestion to the team: treat your early customers like gold, especially when they bring a problem to you rather than walking away. They'll be your biggest asset if you do.
They sometimes have marketing deals, but they seem poorly put together. They were running a promotion for a while for free home blood draw, which they normally charge $80 for, but I either just barely missed it because I was dealing with account problems, or couldn't figure out how to actually apply for the promotion. So I ended up trekking from Cambridge to Newton to visit a LabCorp office instead.
results
My results were part unsurprising, part surprising. I have low blood iron ("ferritin" and "hemoglobin"), low vitamin D (thanks Boston winter), and elevated B12. I'm guessing the B12 is a combination of my nutritional yeast obsession, fortified cereals, and the multivitamin I take daily.
action plan
I came up with a few things I plan to do based on my results.
phase in a vitamin D supplement, at least until it gets warm enough to get sunlight exposure
buy a big bag of red lentils and use them as a base to add vegetables to for meals
phase out the multivitamin I currently take daily, and cut back on breakfast cereal (which I don't usually eat for breakfast, but rather as a snack when I'm feeling too lazy or too hungry to cook or in the mood for something a bit desserty)
increase my leafy greens intake
I'll aim for the lower end of the 3-6 months recommendation for my next blood test. I particularly want to make progress on the low blood iron levels.
I wonder how much blood levels of these "biomarkers" fluctuate on, say, a day-to-day basis. I would love to be able to get faster feedback, and I wonder how much the immediate context of when you get your blood drawn affects results (despite the required 12-hour fast). I was on my period when I got my blood drawn this time. Does that affect my results? Unfortunately, getting more frequent blood draws at this point is prohibitively expensive.
Even the 3-6-monthly blood draw is a fairly big expense, but if you're someone like me who can spring for a $30 monthly supplement that you might not actually need, the cost savings from the feedback might make it cheap. And if it makes you healthier, that may be worth the cost.
We'll see what I think after I get my next test in a few months.
From the "git tricks I learned from work" department:
git push . HEAD:<branch-name>

This will push your current HEAD to a local branch named . You can also force an update using +, just like when you're using push to update an actual remote. HEAD can of course be a more complicated refspec.
You probably don't use git in as crazy ways as my work does, but knowing that you can use a dot to refer to your local repository in commands like push can sure come in handy every once in a while, especially when doing complicated rebases.
Check out this series of photos of crittercam, which I took at the Mystic Aquarium on memorial day. Crittercam is basically a camera that gets strapped onto various animals to help marine biologists study their behaviour.
1986-2003
The first few iterations are clearly ad-hoc constructions, held together with duct tape, glue, and hand-attached metal.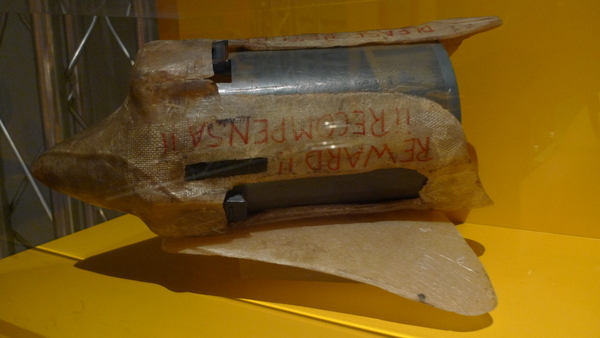 Gotta love the multilingual "REWARD!!" written on it in permanent marker.
As well as their phone number, in the case that some lost unit should wash up on shore and someone stumble across it.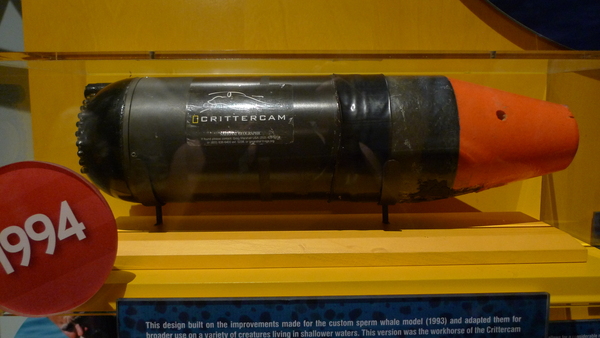 In the later models you can see the influence of the advent of cheaper methods for constructing less jury-rigged cases. These days you can manufacture stuff in small quantities without sending it to a production facility. The package has gotten smaller (okay, that has a lot to do with the shrinking camera electronics and storage mediums), sleeker, and less hand-made.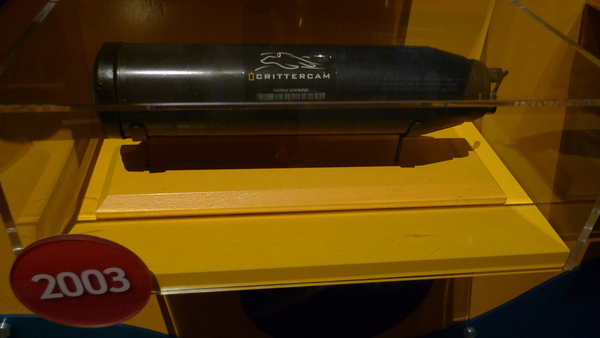 I love seeing the evolution of technology! (Also seeing people using ad-hoc methods to get stuff done.)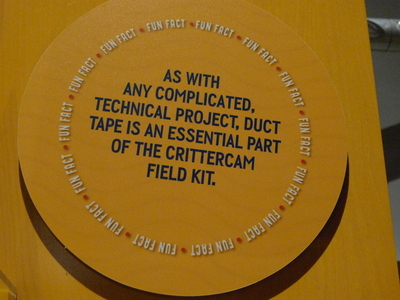 (Cred must be given to Mako for the aquarium conversation that inspired this post.)
Another summer, another excuse to bike around carrying a lot of stuff. This time, the adventure was cycling to Ari and Beth's wedding in New London, Connecticut, with Mako and Daf.
Day 1 - Friday, May 27th
Mako and I took our bikes out for a loaded run down the Minute Man bike path to Bedford and back to make sure everything was in good working condition.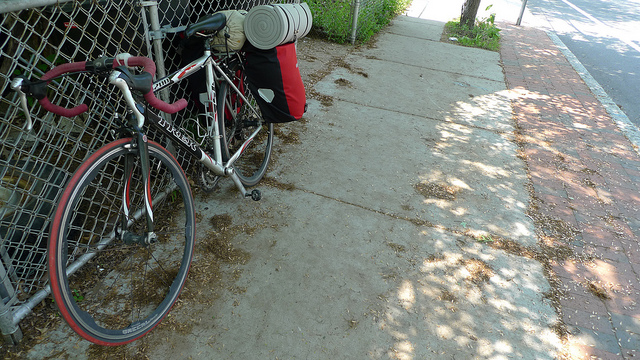 Thanks to a whole bunch of bike maintenance we'd done in the week leading up to this, everything was confirmed to be ship-shape!
Amongst pre-tour maintenance tasks were replacing a very worn chain, heavily worn brake pads, a minorly worn cassette, and some _very_ worn derailleur pulleys. Check out the spikes on those things! (They're _supposed_ to look like gears.)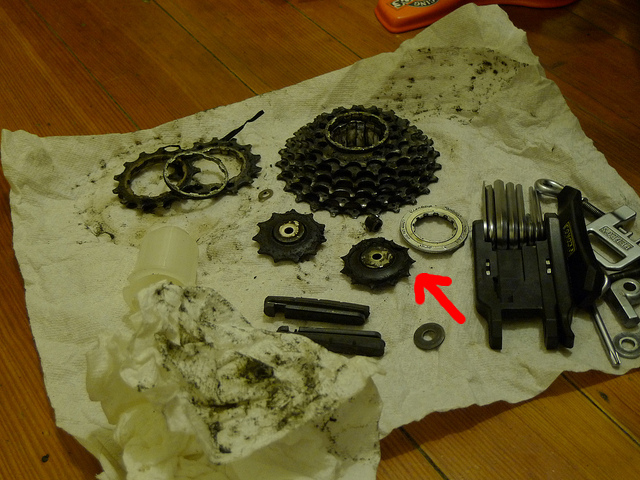 Total distance covered: about 50km.
Day 2 - Saturday, May 28th
Prepped with a hearty grits and tofu scramble breakfast at Johnny D's in Davis Square, we made our getaway at a decadent 11am on a glorious sunny morning. Our friend Ben joined us, leading us on a nice route out of the city and staying on all the way down to Woonsocket, Rhode Island, where we stopped to grab sandwich ingredients (bread, fruit, hummus, veg salami) for lunch at a Stop & Shop.
The only problem encountered was me totally not paying attention to what grocery store we were going to stop at, and powering down a road 10km in the wrong direction, until I finally had the sense to turn on my phone and figure out what was up.
(We were traveling from Chepachet towards East Killingly on the CT/RI border. I ended up halfway to Providence. Oops.)
At least the scenery was nice!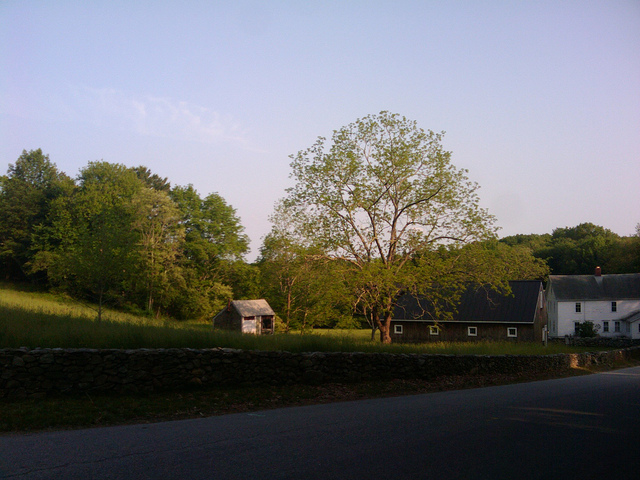 Well, I knew it was all downhill from here.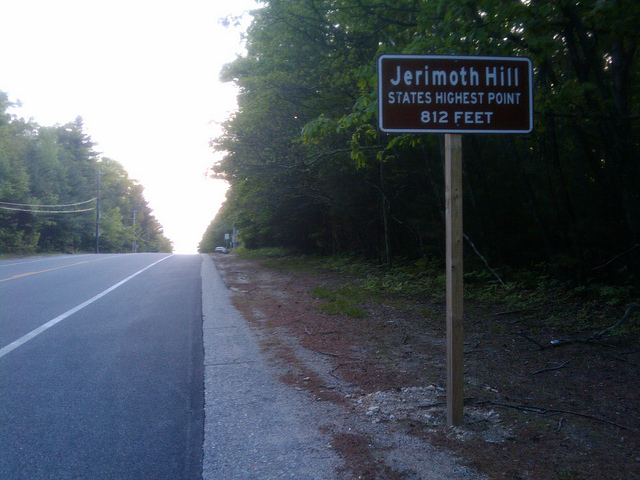 This resulted in me not getting to the campground until around 8pm, kind of cranky and thoroughly ready for food and a shower.
On the plus side, getting in late meant my buddies had already set up the tents!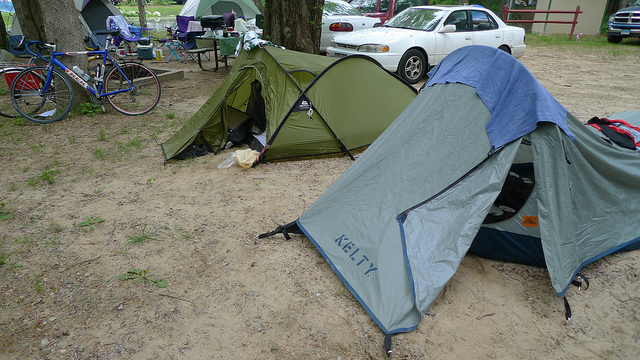 Our fourth party member (traveling separately) had bike problems and couldn't join us, so we had to drink her share too.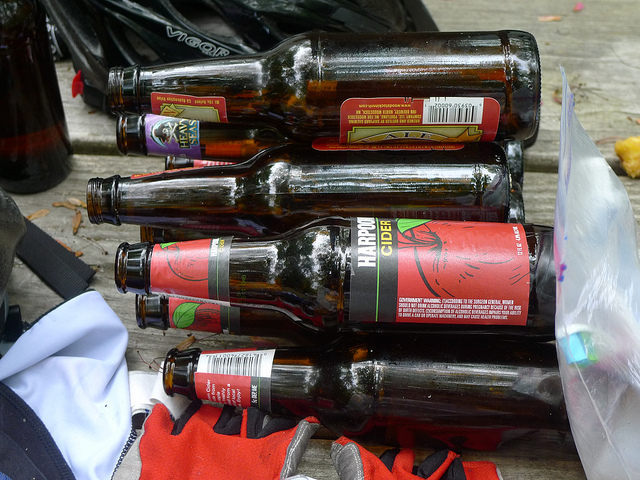 Total distance covered: 110km, or, if you're me, 130km.
Day 3 - Sunday, May 29th
We rolled out of the campground at 10am, needing to cover another 70km in order to make it to the wedding on time. It was hot and sticky that day, and we had to brave the rolling ridges of Connecticut. We passed through Jewett City, which was funny on the way to a Jewish wedding.
We rolled into our motel in Groton at around 3pm, quickly showered, and then piled into a cab to make it to the wedding in time.
Wedding!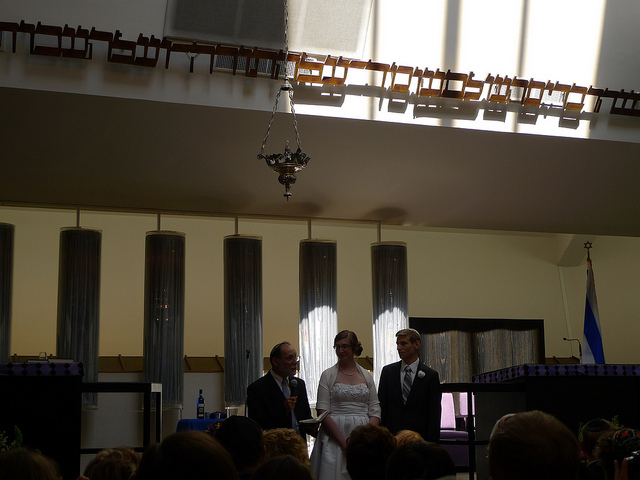 Much merriment, glass-breaking, excellent food, and running around in circles was had.
Total distance covered: 70km.
Day 4 - Monday, May 30th
We basically took this mildly rainy day off, only cycling enough to move our camp to Mystic, Connecticut and make it to the Mystic Aquarium.
Beluuuga!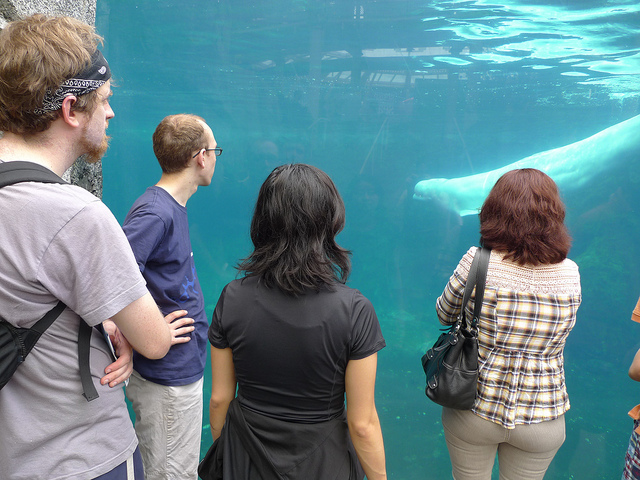 And the highlight of the day was getting pizza and drinking local beer at Pizzetta, where you can ask for almost any pizza on the menu in vegan form.
Who'd have known that the best vegan pizza I've ever eaten would be found in Mystic?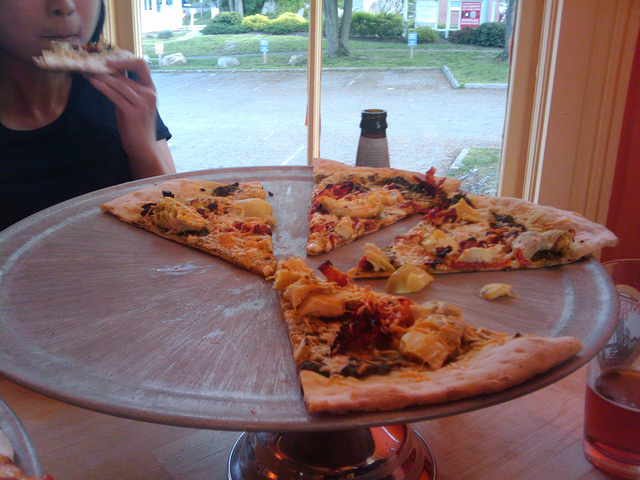 I highly recommend Cottrell's brews, which were most excellent. Seriously, they even have a song.
Total distance covered: 20km.
Day 5 - Tuesday, June 1st
We parted ways with Mako (and Mika, who had joined us late from Tokyo by this point) on another brilliant sunny morning, Daf and I heading east and them heading west. We took a windy and somewhat ill-planned route to Providence.
It just so happened that we passed by Cottrell's on the way, and stopped in to greet the brewer and see the operation.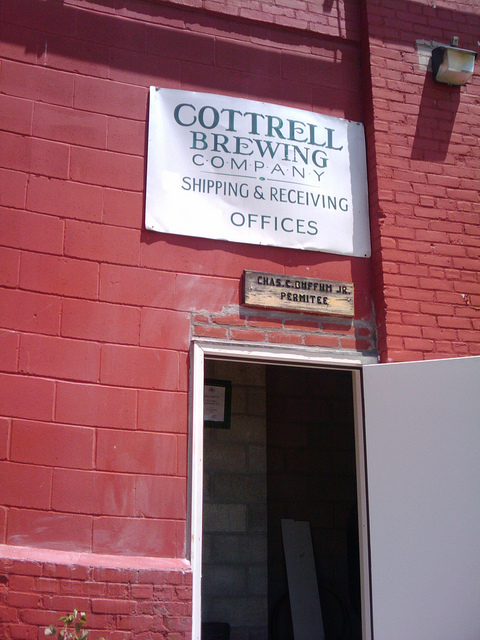 The only proper bike trouble of the entire trip: I ran over a half-inch staple, and then forgot how to switch my pump back to Presta mode from Schrader.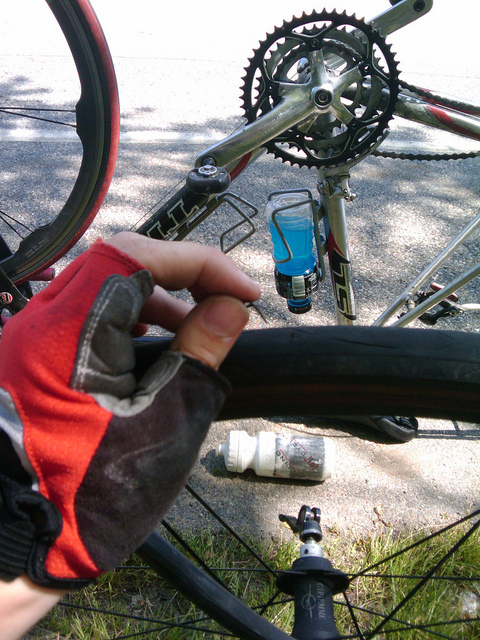 The route ended up being longer than expected, but I can't praise Rhode Island's converted railway paths enough, and it was, for the most part, flat. We hopped on the commuter rail in Providence to make it back to Boston that day.
Total distance covered: 130km.
All in all, it was a great trip, where lots of lessons learned from last time were put into practice. (In particular, adequate prep, having a good rack setup, and having enough gears on the bike to avoid knee pain while climbing hills loaded. Mad props to Star for lending me her stellar bike, which was way better suited to touring than my racer.)
I didn't miss my computer a bit.
(More pics here.)
I found the following quote from Stefano's DPL platform interesting:
When faced with the dilemma, I've favored ditching some DPL tasks and communicating or taking notes about the others, instead of the other way around.
It takes someone who really knows Debian to realize that sometimes communicating about what's being done is more important than doing more.
---
This blog is powered by ikiwiki.